SafePort Gold & Silver Mining Fund
Performance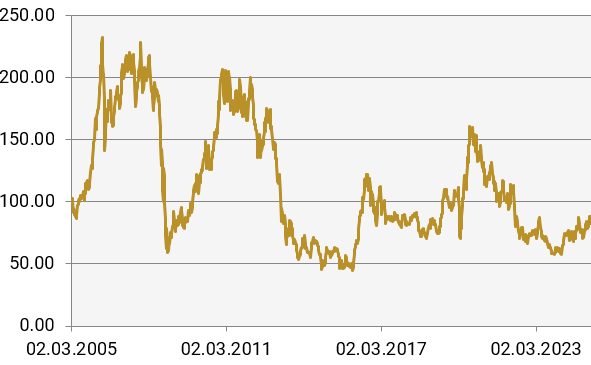 Specification
Investment goal

The investment goal is to achieve a long-term substantial real increase in value. The Fund strives to maintain and increase the purchasing power of the capital invested.

Investment strategy

The Fund invests globally in shares and shares of companies that mine, produce or process precious metals, especially of gold and silver mining companies. The Fund minds a very high diversification of risks for the fund assets. When investing, the Fund considers both large mining companies with major reserves and high production and medium-sized mining companies with sound growth as well as emerging companies with proven reserve potential (but to a minor degree).

Specific aspects

The Fund has a lot of know-how at its disposal in regards to the selection and management of the mining shares. Investments in gold and silver mining companies involve special opportunities and risks. There are more risks than with investments in physical metals, but the profit opportunities are much higher, provided that the investor has succeeded to select the right mining shares. The selection of mining shares requires a high level of expertise. Even banks and asset managers often need to consult experts and usually prefer investing in mining funds.
Key figures
Administration
Asset manager

Perfect Management Services AG, Triesen
Azur International Portfolio Management AG, Vaduz
Management company
CAIAC Fund Management AG, Bendern
Depository bank
NEUE Bank AG, Vaduz
Auditing company
Grant Thornton AG, Schaan


General information
| | |
| --- | --- |
| Domicile | Principality of Liechtenstein |
| Securities Number | 2032571 |
| ISIN | LI0020325713 |
| Bloomberg | RSAFEPO:LE |
| Duration | unlimited |
| First issuance | 01.03.2005 |
| Currency/Minimal investment | EUR / 5'000.- |
| Paying agent for banks | NEUE Bank AG |
| Paying agent for private investors | CAIAC Fund Management AG |
| Date of subscription/redemption | weekly |
| Closing date for subscription/redemption | Thursday |
| Assesment of valuation | weekly |
| Price information | www.safeport-funds.com |
| Closing of accounting year | 31. Dec |
| Appropriation of profits | accumulating |
Transaction fees
| | |
| --- | --- |
| Issuing commission | depending on the subscription amount (0 to 6.5%) |
| Paying agent fee (transactions) | 0.20% (min. EUR 60.- max. EUR 1'000.-) |
| Paying agent fee (fund switching) | 0.10% (min. EUR 30.- max. EUR 500.-) |
| Redemption commission | none |
Fund fees
| | |
| --- | --- |
| Management fee | 1.525% p.a. |
| Performance fee | 15.00% (high-water-mark) |
| Risk management and administration | 0.20% p.a. (min. CHF 25'000.-) |
| Administration share register | 0.05% p.a. |
| Depository fee | 0.15% p.a. |
Downloads / Contact