SafePort Physical Gold 95+ Fund (EUR)
Performance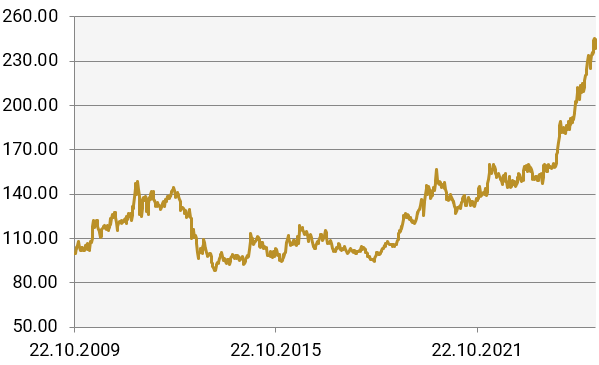 Specification
Investment goal

The investment goal is to achieve a high asset protection in the medium to the long term, especially when faced with financial and currency crisis as well as tendencies to monetary depreciation. In the interest of the investor, the Fund strives to maintain and increase the purchasing power of the capital invested.

As the Fund has its domicile and warehouse of the physical gold in the Principality of Liechtenstein, the Fund can consequently ensure a high level of property security.

Investment strategy

The Fund purchases, holds and warehouses at least 95% of gold in physical form. The Fund deliberately abstains from using derivative investment instruments.

Specific aspects
Physical redemption
When redeeming fund units, the investor may request delivery of physical gold.
Key figures
Administration
| | |
| --- | --- |
| Portfolio manager | Perfect Management Services AG, Triesen |
| AIF manager | CAIAC Fund Management AG, Bendern |
| Depository bank | NEUE Bank AG, Vaduz |
| Auditing company | Grant Thornton AG, Schaan |
General information
| | |
| --- | --- |
| Domicile | Principality of Liechtenstein |
| Securities Number | 10377008 |
| ISIN | LI0103770082 |
| Bloomberg | SPPG95P:LE |
| Duration | unlimited |
| First issuance | 01.10.2009 |
| Currency/Minimal investment | EUR / 5'000.- |
| Paying agent for banks | NEUE Bank AG |
| Paying agent for private investors | CAIAC Fund Management AG |
| Date of subscription/redemption | weekly |
| Closing date for subscription/redemption | Thursday |
| Assessment of valuation | weekly |
| Price information | www.safeport-funds.com |
| Closing of accounting year | 31. Dec |
| Appropriation of proftis | accumulating |
Transaction fees
| | |
| --- | --- |
| Issuing commission | depending on the subscription amount (0 to 6.5 %) |
| Paying agent fee (transactions) | 0.20% (min. EUR 60.- max. EUR 1'000.-) |
| Paying agent fee (fund switching) | 0.10% (min. EUR 30.- max. EUR 500.-) |
| Redemption commission | none |
Fund fees
| | |
| --- | --- |
| Portfolio management fee | 0.975% p.a. |
| Performance fee | none |
| Risk management and administration | 0.10% p.a. (min. CHF 25'000.-) |
| Administration share register | 0.05% p.a. |
| Depository fee | 0.15% p.a. |
Downloads / Contact