SafePort LOICK Bio-Products & Bio-Energy Fund (EUR)
Performance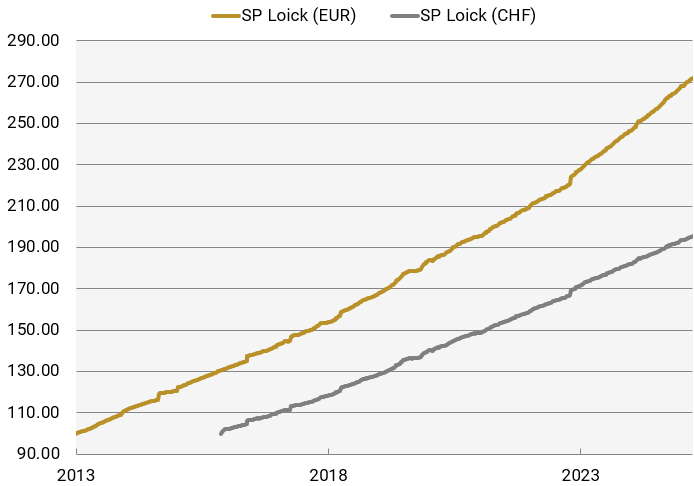 Specification
Investment goal

The investment goal is to achieve a continuous real increase in value of the capital invested to compensate or surpass monetary devaluation in the medium and long term. The Fund strives to maintain and increase the purchasing power of the capital invested.

Investment strategy

The Fund invests approx. 75% of the Fund capital in fixed-interest investments. This component of earnings is covered by returns generated from bioenergy plants owned by the Fund and which have a continuous and solid character. These bioenergy plants are held by a fund-owned holding company that generally grants them loans at a fixed-interest rate of 12.5% p.a. The major part of the Fund capital is thus invested in fixed-interest loans whose interest earnings are hedged by the profit of the fund-owned bioenergy plants.

Specific aspects

The solid increase in value of the capital invested is based on a special market niche. The holding company of the Fund purchases poorly managed bioenergy plants that – after a comprehensive restructuring process in technical, managerial and financial respects – generate high and solid returns.

A comprehensive exposé on the Fund is available at Perfect Management Services AG.
Key figures
Adminstration
| | |
| --- | --- |
| Asset manager | SafePort Asset Management Ltd., St. Vincent |
| Fund administration | CAIAC International Ltd., St. Vincent |
| Custodian bank | NEUE Bank AG, Vaduz |
| Auditing company | AAC Financial Audit Services AG, Triesen |
General information
| | |
| --- | --- |
| Domicile | St. Vincent |
| Securities Number | 20506714 |
| ISIN | VCP8244T2077 |
| Bloomberg | SPLBPBC:EK |
| Duration | unlimited |
| First issuance | 21.02.2013 |
| Currency/Minimal investment | CHF / 5'000.- |
| Paying agent for banks | NEUE Bank AG |
| Paying agent for private investors | CAIAC Fund Management AG |
| Date of subscription/redemption | weekly |
| Closing date for subscription/redemption | Thursday |
| Assessment of valuation | weekly |
| Price information | www.safeport-funds.com |
| Closing of accounting year | 31. Dec |
| Appropriation of profits | accumulating |
Transaction fees
| | |
| --- | --- |
| Issuing commission | depending on the subscription amount (0 to 6.5 %) |
| Paying agent fee (transactions) | 0.20% (min. CHF 60.- max. CHF 1'000.-) |
| Paying agent fee (fund switching) | 0.10% (min. CHF 30.- max. CHF 500.-) |
| Redemption commission | none |
Fund fees
| | |
| --- | --- |
| Management fee | 1.80% p.a. |
| Performance fee | 10% (high-water-mark) |
| Administrations fee | 0.30% p.a. (min. CHF 25'000.-) |
| Administration share register | 0.05% p.a. |
| Custodian bank fee | 0.15% p.a. |
Downloads / Contact