SafePort Strategic Metals & Energy Fund
Performance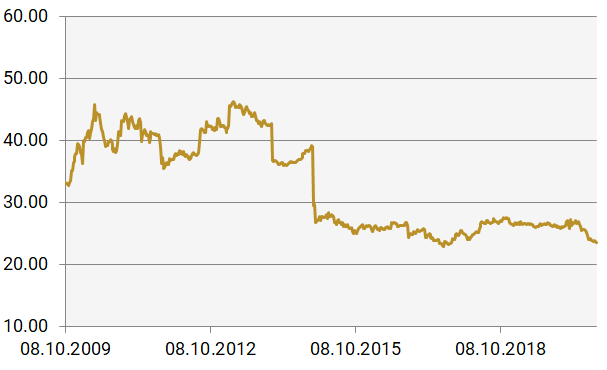 Specification
Investment goal

The investment goal is to achieve a long-term substantial real increase in value.

Investment strategy
The Fund invests in strategic physical metals, in energy commodities and shares of companies that mine, produce or process the mentioned commodities or are active in the sector of renewable energies such as, for example, biogas and solar and wind power.

Several metallurgy experts qualify rhenium as the metal which is going to experience the highest increase in value of all strategic metals given the fact that it is naturally extremely scarce but at the same time continuously and increasingly in demand on the global market. The Fund purchases, holds and warehouses at least 80% of the Fund capital in physical rhenium. The Fund deliberately abstains from using derivative investment instruments.

Specific aspects

Value added tax (VAT)
The Fund has organisational structures that authorize the purchase of physical white metals (e.g. silver) without the burden of value added tax.
Key figures
Administration
| | |
| --- | --- |
| Portfolio manager | Perfect Management Services AG, Triesen |
| AIF manager | CAIAC Fund Management AG, Bendern |
| Depository bank | NEUE Bank AG, Vaduz |
| Auditing company | Grant Thornton AG, Schaan |
General information
| | |
| --- | --- |
| Domicile | Principality of Liechtenstein |
| Securities Number | 10377010 |
| ISIN | LI0103770108 |
| Bloomberg | SAFEPME:LE |
| Duration | unlimited |
| First issuance | 22.10.2009 |
| Currency/Minimal investment | EUR / 5'000.- |
| Paying agent for banks | NEUE Bank AG |
| Paying agent for private investors | CAIAC Fund Management AG |
| Date of subscription/redemption | weekly |
| Closing date for subscription/redemption | Thursday |
| Assessment of valuation | weekly |
| Price information | www.safeport-funds.com |
| Closing of accounting year | 31. Dec |
| Appropriation of profits | accumulating |
Transaction fees
| | |
| --- | --- |
| Issuing commission | depending on the subscription amount (0 to 6.5%) |
| Paying agent fee (transactions) | 0.20% (min. EUR 60.- max. EUR 1'000.-) |
| Paying agent fee (fund switching) | 0.10% (min. EUR 30.- max. EUR 500.-) |
| Redemption commision | none |
Fund fees
| | |
| --- | --- |
| Portfolio management fee | 1.525% p.a. |
| Performance fee | 15 % (high-water-mark) |
| Risk management and administration | 0.20% p.a. (min. CHF 25'000.-) |
| Administration share register | 0.05% p.a. |
| Depository fee | 0.15% p.a. |
Downloads / Contact