Performance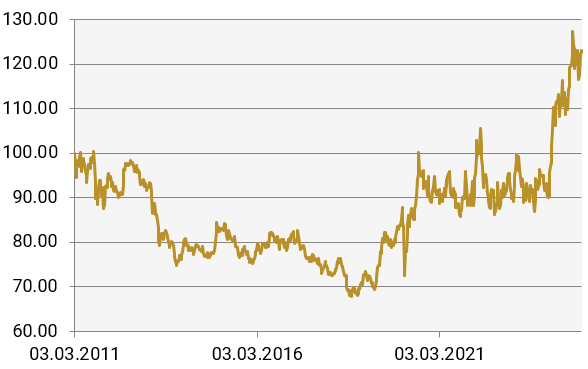 Specification
Investment goal

The investment goal is to achieve a long-term substantial real increase in value. The Fund offers the investors an investment possibility with which the invested capital is effectively protected against inflationary devaluation and can be increased. This investment goal is achieved by investments in sustainable real assets and commodities.

Investment strategy

The Fund invests a variable proportion of the fund capital in physical precious metals warehoused by the Fund. This may be directly through investments in physical gold and silver or indirectly through investment funds that hold the precious metals physically.

In addition, the Fund invests in shares of listed companies that produce goods (i.e. shares of banks and insurance companies are thus not part of the investment universe). The purchase of certificates or ETF/ETC on renewable agricultural products (for example wheat, coffee, corn, etc.) is also part of the targeted investment universe.

Specific aspects

Up to a maximum of 25% of the Fund capital may be hold in investment funds that are themselves invested in non-listed investment companies such as in bioenergy plants, solar panels or wind turbines.
Key figures
Administration
Portfolio manager

Perfect Management Services AG, Triesen
TrendConcept Invest AG, Vaduz
AIF manager
CAIAC Fund Management AG, Bendern
Depository bank
NEUE Bank AG, Vaduz
Auditing company
Grant Thornton AG, Schaan
General information
| | |
| --- | --- |
| Domicile | Principality of Liechtenstein |
| Securities Number | 10377011 |
| ISIN | LI0103770116 |
| Bloomberg | SPAUAGR:LE |
| Duration | unlimited |
| First issuance | 20.01.2011 |
| Currency/Minimal investment | EUR / 5'000.- |
| Paying agent for banks | NEUE Bank AG |
| Paying agent for private investors | CAIAC Fund Management AG |
| Date of subscription/redemption | weekly |
| Closing date for subscription/redemption | Thursday |
| Assessment of valuation | weekly |
| Price information | www.safeport-funds.com |
| Closing of accounting year | 31. Dec |
| Appropriation of profits | accumulating |
Transaction fees
| | |
| --- | --- |
| Issuing commission | depending on the subscription amount (0 to 6.5%) |
| Paying agent fee (transactions) | 0.20% (min. EUR 60.- max. EUR 1'000.-) |
| Paying agent fee (fund switching) | 0.10% (min. EUR 30.- max. EUR 500.-) |
| Redemption commission | none |
Fund fees
| | |
| --- | --- |
| Portfolio management fee | 1.20% p.a. |
| Performance fee | 10 % (high-water-mark) |
| Risk management and administration | 0.20% p.a. |
| Administration share register | 0.05% p.a. |
| Depository fee | 0.15% p.a. |
Downloads / Contact